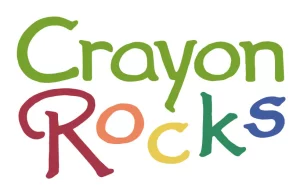 Crayon Rocks is a brand created by Barbara Lee - a special needs children's teacher in America. In her work, Barbara saw the importance of learning correct pencil handling from an early age in good handwriting. That's why she created stone-shaped soy chalks, which help children learn the basics of pencil handling early on, and make it easier to use the pencil later on.
Made from soy wax produced in the USA, they are brightly coloured and leave a nice texture on the paper when coloured.
The crayons' rock-solid design has been widely acclaimed by occupational therapists and pre-school teachers around the world, as they are specifically designed to develop fine motor coordination that supports the specific muscles that will be used later when writing with a pencil. The shape of the crayon encourages children to use their thumb, index finger and middle finger to hold the crayon, rather than gripping the crayon in their hand as a normal pencil is often initially grasped by children.
Crayon Rocks are toxin-free and meet ASTM D-4236, ASTM F-963, EN71-3 and CPSIA certifications.